If you visit Greece without trying a Greek meze dinner, have you really been to Greece?
The Greek meze dinner is wildly popular not only among locals but also to tourists visiting Greece. Delicious, budget-friendly, and made of fresh local ingredients, a meze dinner is the best way to introduce yourself to the local gastronomy!
Are you wondering what to order for an unforgettable meze dinner?
Stick with us cause we're about to reveal everything!
Why is Greek meze dinner a must?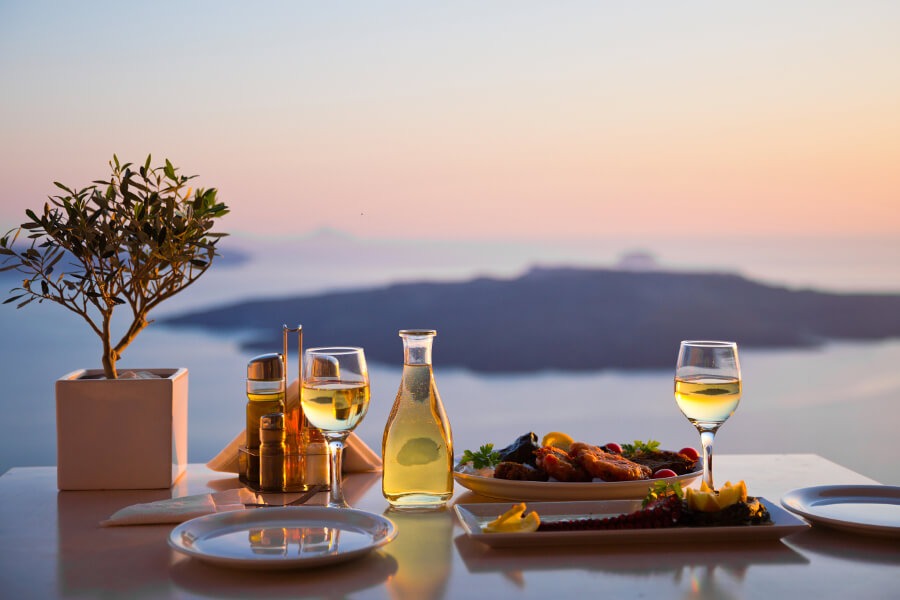 The truth is that meze is very popular in Greece as a traditional go-to dinner or lunch option. If you don't know what meze is, it is basically a meal consisting of a selection of appetizers, often accompanied by alcoholic beverages. In Greece in particular, meze dinners consist of several traditional delicacies and are accompanied by ouzo, raki, or wine.
Greek meze dinner is not only the best way to taste several local delicacies at once but also dine without breaking the bank!
What's more, Greek cuisine follows all the principles of the Mediterranean diet. This means that Greek mezes are not only super delicious but also healthy and highly nutritious.
Bottom line: Meze dinner dishes are easy to make at home.
Cool, right?
Dolmadakia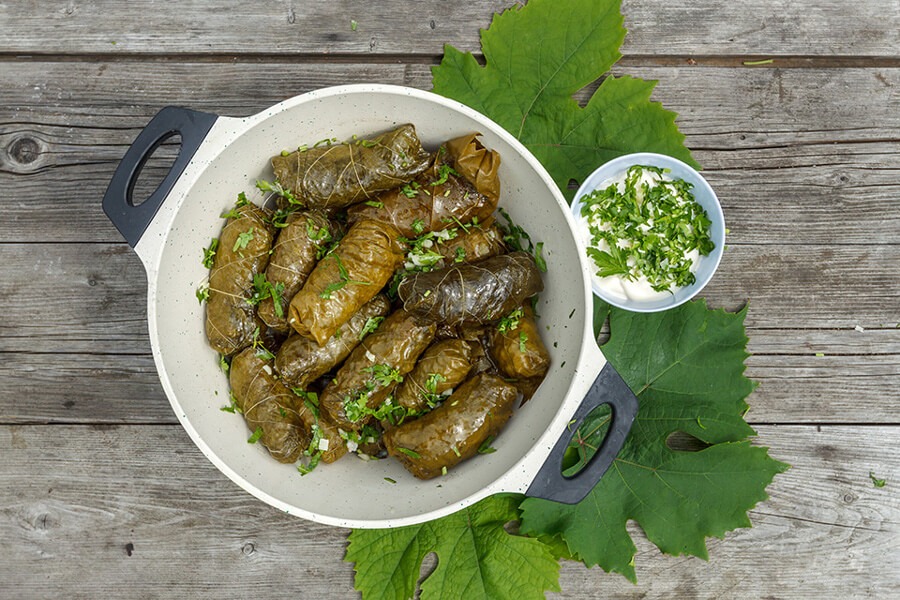 Source: ammonexpress.gr
This is one of the most loved (and healthiest) traditional recipes in Greece. Dolmadakia is basically vine leaves stuffed with rice (and/or ground meat) and several herbs. A drizzle of lemon and virgin olive oil skyrocket the taste! This delicious delicacy is one of the best things to eat along with your ouzo after a day at the beach.
Tirokafteri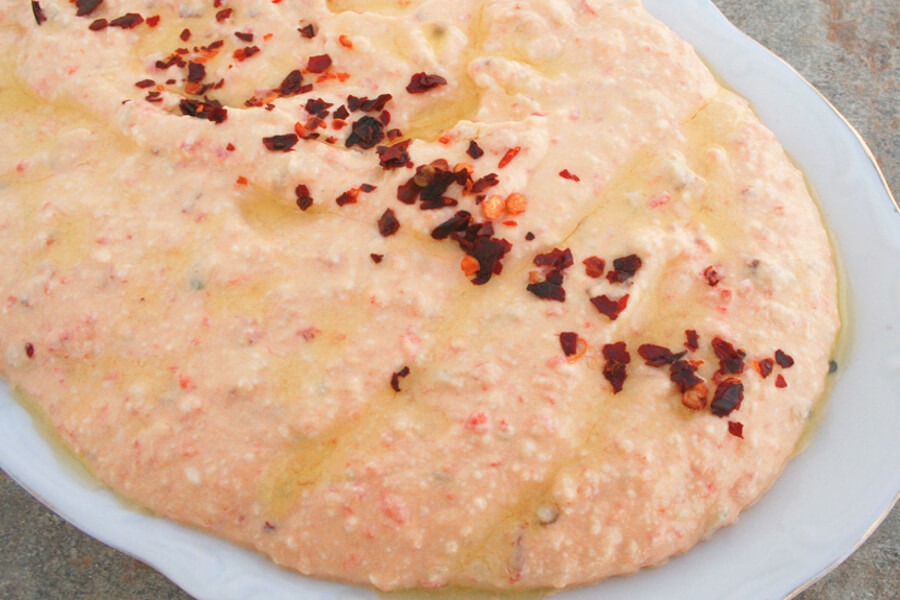 Source: thegluttonlife.com
Tirokafteri is a spicy cheese dip usually spread on bread. It's not a secret that the Greeks love cheese and especially the delicious local feta. That's why you'll often find feta in many versions, such as tirokafteri. This dip is made of feta (obviously), greek yogurt, peppers, wine, and vinegar. The best part is it's a very simple recipe you can easily follow at home.
Tigania
Source: theoliveandthesea.com
Tigania is one of the most popular meat-based mezes in Greece. It's a delicious plate consisted of chopped meat (beef chicken) cooked with several vegetables, such as bell peppers, leek, and onions and herbs. It is usually cooked in a pan with virgin olive oil and served along with fries. If you are a meat lover, you're going to adore it!
Fava
Fava is one of the most delicious Greek spreads/dips! It is made of chickpeas, olive oil, and several herbs that give it a rich taste. Fava is one of Santorini's local delicacies, so if you happen to visit the island, don't miss to try the traditional fava. What's more, it is a dish you can easily recreate on your own, as it is made of simple ingredients blended together!
Kolokithokeftedes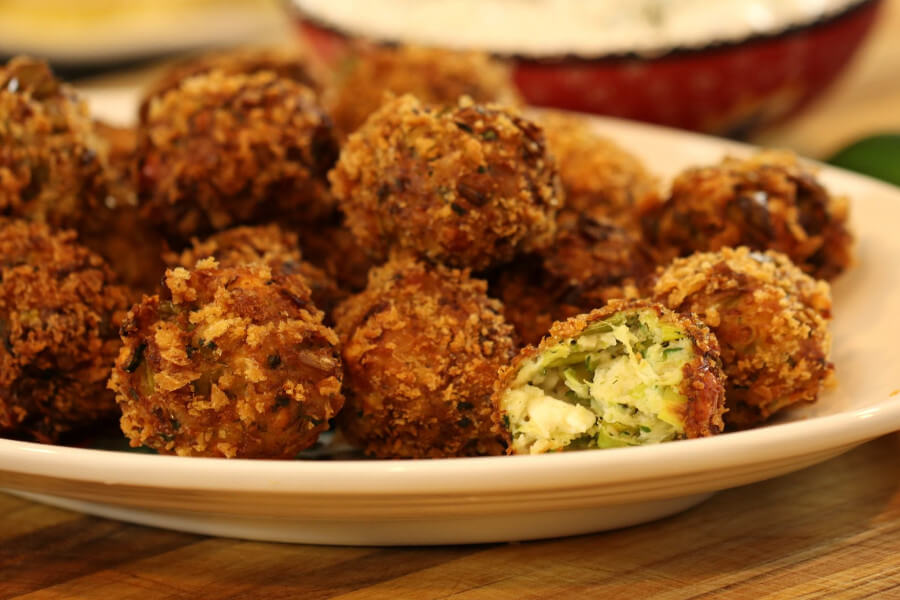 Source: dimitrasdishes.com
Kolokithokeftedes is basically zucchini balls with cheese and herbs. They are usually fried, but can also be roasted as a more diet-friendly option. They are tasteful and light and are often accompanied by a fresh yogurt-based dip. Zucchini and yogurt make a killer combination!
Hard cheese
Greece is wildly popular for its hard cheeses. Depending on what island or town of the Greek mainland you might be, you'll get the chance to taste different local cheeses. Graviera, kasseri, arseniko Naxou, and ladotiri Mytilines are some of the Greek cheeses you need to try. They are so delicious, that they can alone accompany your ouzo or wine!
Fried calamari
Source: mygreekdish.com
Fried calamari is one of the most popular Greek mezes, especially in the summer. Especially if you're planning on visiting a Greek island or a seaside village in the Greek mainland, don't miss trying fried calamari. It is usually freshly caught by the local fishermen and tastes like heaven!
Olives
Olives play an important role in the Mediterranean diet! Their rich taste and high nutritional value make it not only a great snack but also an inseparable part of a Greek meze dinner. They are perfectly paired with freshly baked bread and feta cheese.
Tomatokeftedes
Source: mygreekfoodrecipes.com
Tomatokeftedes is yummy tomato balls, usually fried or roasted. It is one of the most iconic traditional recipes of Santorini, which is famous for its tomato production but can be found at restaurants all around the Cyclades.
Marinated anchovy
Source: eleftherostypos.gr
Anchovy is a very loved fish in Greece and a popular meze to eat along with ouzo. Anchovies are usually marinated with vinegar, olive oil, and garlic, which give them a slightly spicy flavor. For this recipe, anchovies are usually roasted, but you can also order fried anchovies- they are also super delicious!
Stuffed peppers
Source: gastronomos.gr
Stuffed peppers are a must for a traditional Greek meze dinner! This dish is usually made with green peppers that get stuffed with feta cheese and herbs. The sweet taste of the peppers and the slightly sour taste of the feta cheese create an absolutely dreamy dish.
Ouzo
Ouzo is a must for a complete Greek meze dinner! Also known as the national alcoholic beverage of Greece, ouzo accompanies perfectly every meal, let alone meze meals. Ouzo is originally transparent, but it gets a milky white color when mixed with water. Add some ice cubes to the mix and you got the perfect summer drink!
Local wine
In case ouzo isn't your cup of tea, local wine is another perfect pair for a Greek meze dinner. Most traditional taverns in Greece produce their own wine, so it shouldn't be difficult to accompany your meze with delicious local wine. Bottom line: Local bulk wine is way cheaper than premium bottled wine!
We bet you're drooling already!
Enjoying a Greek meze dinner is hands down one of the best things to do in Greece. If you want to take the Greek meze experience to another level and explore the local culinary scene, we highly recommend you to join a food tour in Athens!