Santorini or Mykonos? Mykonos or Santorini? Which of the two islands should you choose for your holidays?
The struggle is real, but we're here to help!
The truth is that Mykonos and Santorini are the most popular Greek islands that hardly ever miss from travelers' bucket lists. Their natural beauty, cosmopolitan aura, beautiful beaches, and Cycladic architecture make them irresistible!
If you had to choose one, though, which one would it be?
Keep reading to find out which of the two Cycladic stunners is your perfect match!
Santorini, the romantic one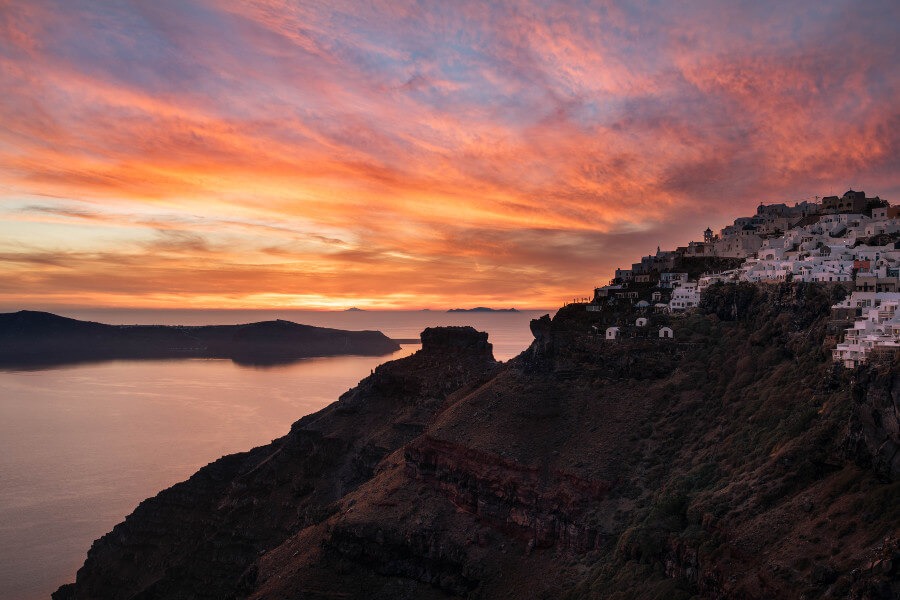 Holidays in Santorini is truly something to experience!
The most famous island in Greece, Santorini stands out for its volcanic landscape, dramatic caldera, world-class resorts, and unique Cycladic architecture. Not to mention the show-stopping sunsets that turn the whitewashed buildings the most beautiful orange and pink. Pure magic!
Is Santorini for you?
Well, it doesn't come as a surprise that Santorini is a top destination for couples.
Romantic sunsets, private resorts hanging from the caldera, roof-top restaurants with all-encompassing volcano views… What's not to love about Santorini? Either you're searching for the perfect honeymoon destination or a romantic getaway to paradise, this island will not disappoint!
Tip: For the ultimate holiday experience for two, opt for a hotel with a private pool on the edge of the caldera. Afternoon dips with a view of the famous Santorini sunset are priceless!
What are the best things to do?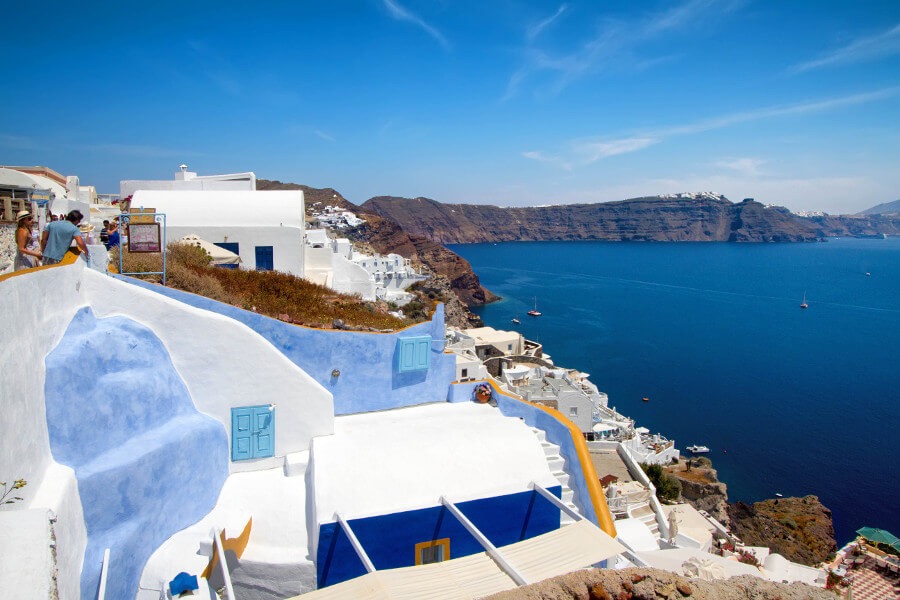 You might be tempted to lie by the pool all day or watch the sunset from your terrace, but there are way more things to do in Santorini! One of the must-do activities in Santorini is a tour to the volcano. The only way to get to the volcano is by boat from the port of Santorini. Many boats depart from the port every day and sail to the little islands of Nea Kameni and Palea Kameni, where the volcano craters are. During these sailing tours, you'll also have the chance to dip into the hot springs around the volcano and indulge in a natural spa treatment.
Another popular activity to do in Santorini is to join a wine tour. Having fertile volcanic soil, the island produces some of the most famous wine varieties worldwide, like Assyrtiko, Athiri, and Aidani. So, if you are a wine enthusiast, it's really worth it to visit some of the island's wineries for a wine-tasting session!
History buffs won't be disappointed either! Thanks to its enduring history, Santorini has many archaeological sites. The most popular of them is the ancient Minoan town of Akrotiri. This town, which was originally constructed in 4,500 B.C., was completely destroyed by a huge volcanic eruption. Although the eruption was devastating, there are still some remains of the town, like frescoes, buildings, and vessels.
Beaches in Santorini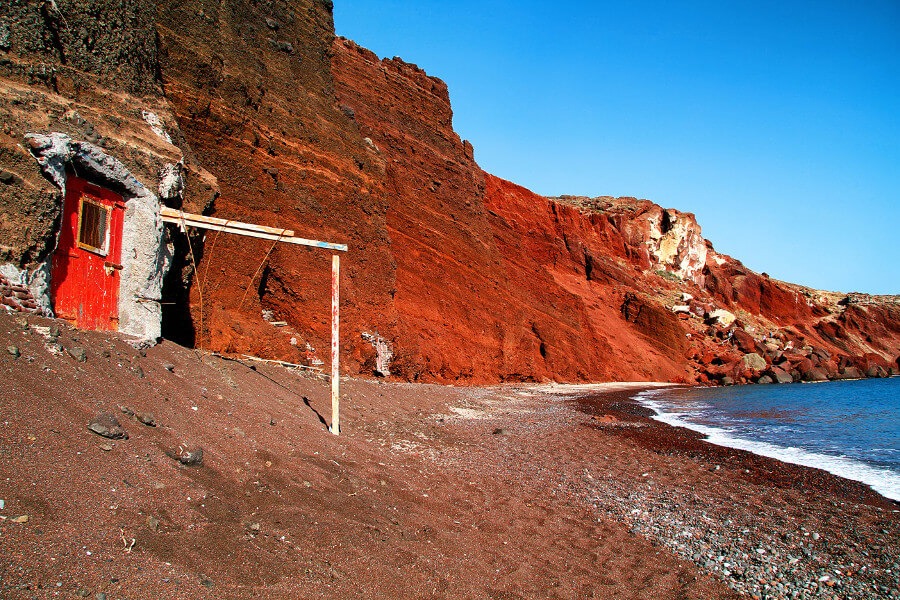 Beaches in Santorini are a little bit different than their Cycladic counterparts. Thanks to the island's volcanic origin, the beaches in Santorini boast a unique lunar landscape. Insulated by volcanic cliffs and covered with black or red sand, Santorini beaches are simply beautiful.
The most popular beaches of the island are the Red beach, the Black beach, and Kamari beach. Organized with umbrellas and sunbeds and surrounded by breathtaking natural landscapes, they will answer all your beach dreams!
Mykonos, the cosmopolitan one
Famous all over the world as a top cosmopolitan and gay-friendly destination, Mykonos is one of the most iconic islands. So, it doesn't come as a surprise that Mykonos is also known as the Ibiza of Greece and the St. Tropez of Greece. The wild nightlife, epic beach parties, world-class hotels, and high-end fashion boutiques make Mykonos the absolute glamorous getaway for the summer!
Is Mykonos for you?
If you are a thrill-seeker, a party animal or a luxurious lifestyle lover, look no further than Mykonos for your next holidays! Be prepared to dance from dusk till dawn, meet people from all over the world (including your favorite Hollywood stars), eat and drink at high-end restaurants, and shop at top designer boutiques. Sounding like heaven to you?
What are the best things to do in Mykonos?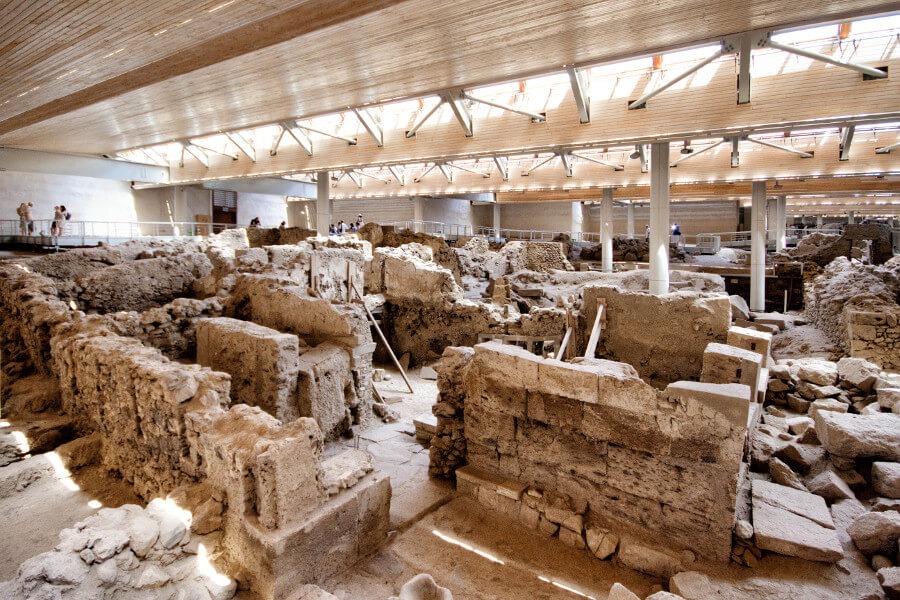 Partying and socializing might be the first things that come to mind when you think of things to do in Mykonos, but, trust us, there's more to it than that!
First of all, you shouldn't leave Mykonos before visiting Delos, a tiny rocky islet a few miles southwest of Mykonos. Delos, which was believed to be the birthplace of the ancient Greek god Apollo, was considered a sacred sanctuary in antiquity. That's why it was full of temples and statues, some of which you can still see today. To get to Delos, you should take a boat from Mykonos or join an organized tour to Delos for a complete sightseeing experience!
Another thing you should do in Mykonos is to visit Little Venice and the Windmills. Little Venice is a picturesque seaside neighborhood in Mykonos town that consists of old whitewashed houses built on the edge of the sea. The scenery, which reminds of Venice in Italy, is very romantic, especially during the sunset! A few meters away from Little Venice sit the island's trademarks, the windmills. The windmills are a popular point for photos, so they are usually overcrowded. To avoid the crowds, we suggest that you visit them early in the morning when the light is perfect for photos, but the place isn't full of tourists!
Other top things to do in Mykonos are doing watersports, joining sailing tours, eating at the most luxurious restaurants, and exploring the island.
Beaches in Mykonos
Beaches in Mykonos are amazing not only because of their natural beauty but also because of their legendary beach bars! Almost every beach on the island is organized with umbrellas and sea beds and has many amenities, as well as water-sports facilities.
The most popular beaches in Mykonos, at least glamour-wise, are Paradise and Super Paradise. These two beaches lie next to each other and stand out for their crystal-clear waters and sugar-fine sand. Super Paradise attracts mostly members of the LGBTQ community, while Paradise is famous to the youngsters, who flock to this beach for epic beach parties!
So, what's your perfect island match, Santorini or Mykonos?
Well, why not both? For the ultimate holiday experience, we highly suggest that you book an island-hopping package and get the best of both worlds!