What if we told you that there's a coastal paradise just a few kilometers away from Athens? We're talking about Athens Riviera, an idyllic coast that will make all your Greek island dreams come true. Without even leaving the Greek capital!
Sounds dreamy, right?
So, if you want to learn everything about Athens Riviera, stick with us.
Cause truth is Athens Riviera is a world unto itself!
Healing waters and a mysterious cave at Lake Vouliagmeni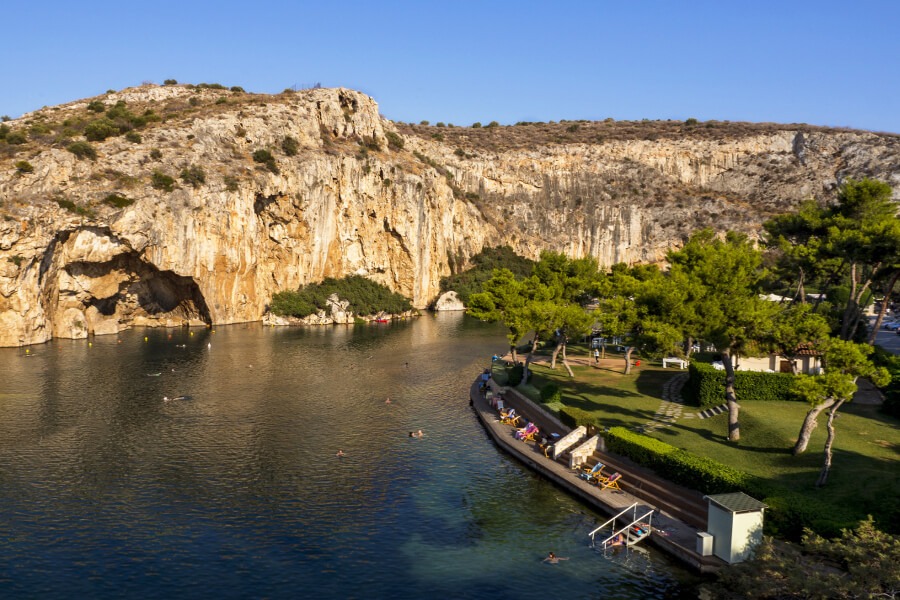 Lake Vouliagmeni is one of the most magical places in Athens Riviera.
This beautiful lake has warm therapeutic waters with several healing properties, as they are known to relieve rheumatism and arthritis! Apart from the miraculous waters of Lake Vouliagmeni, there's another reason why this place emits an ethereal charm.
The big limestone cave that sits in Lake Vouliagmeni is not only an interesting geological phenomenon but also a magical place to swim! Inside the cave, there are underground labyrinths, thermal springs, stalagmites, and many sea creatures.
Mind: blown!
Strolling at Stavros Niarchos Foundation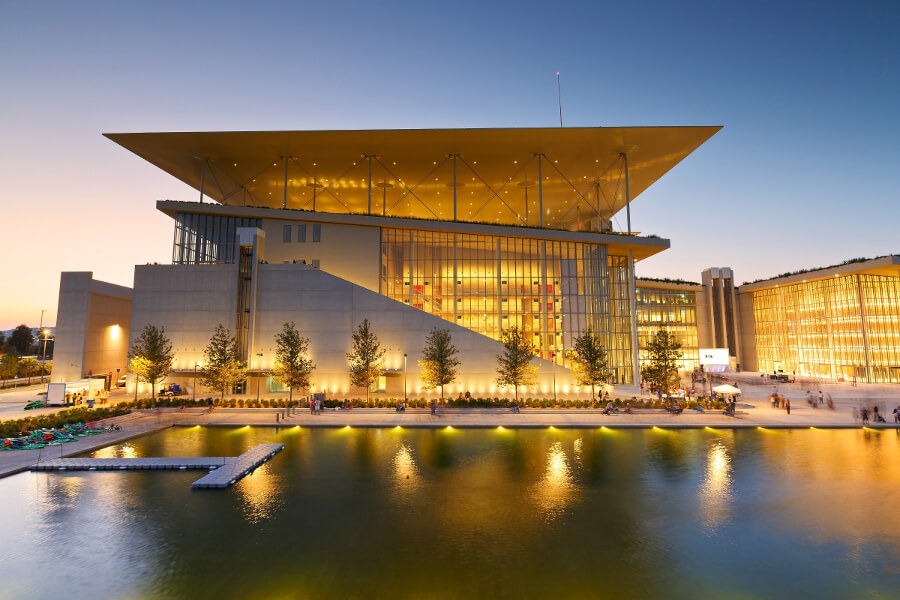 Just a few minutes from Athens city center, in Faliro, lies Stavros Niarchos Foundation Cultural Center.
In SNFCC, you'll find everything culture-related, from the Greek National Opera and the National Library of Greece, to a wide variety of environmental and cultural activities. Located right by the sea, SNFCC boasts stunning architecture and facilities such as dancing fountains, a canal, a park, a restaurant, and many more.
It is the perfect place to visit for an all-day stroll!
Tip: Check the activities schedule before your visit. There are always many events and activities organized in SNFCC.
The temple of Poseidon at Cape Sounion
One of the things you should cross off your bucket list while in Athens is a visit to Cape Sounion. There, you'll find the imposing temple of Poseidon.
Perched on the top of a hill and boasting a breathtaking sea view of the Saronic Gulf, this temple is a true architectural gem! The temple of Poseidon was built in the 5th century BC in honor of the Greek god of the sea, Poseidon. The Doric Temple of Poseidon is made of white marble by the renowned architect Ictinus, who had also built the Temple of Hephaestus in Ancient Agora.
The best time of the day to visit the Temple of Poseidon is hands down dusk. Watching the sun sinking in the sea behind the huge marble columns of the temple is a unique experience.
If you love sea activities then book a sea kayak adventure to Cape Sounio.
Tip: After your visit to the Temple of Poseidon, head to one of the seafood taverns nearby.
Sailing to the Saronic Gulf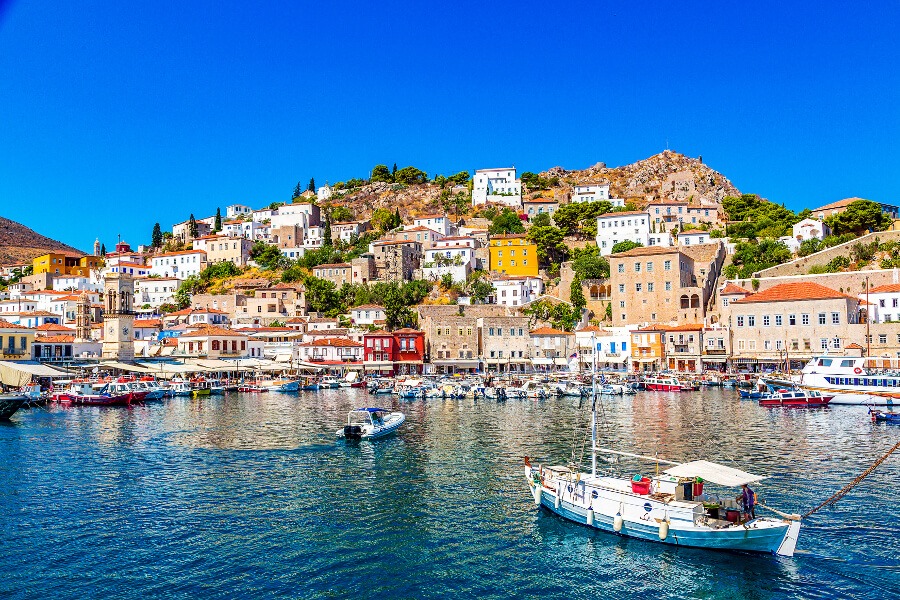 Departing from Athens Riviera, you can set off on a sailing adventure to the Saronic islands!
Just a couple of hours away from Athens by ferry, the Saronic islands are perfect for a quick getaway from Athens. Aegina, Poros, Hydra, Spetses, and Agistri are the most popular destinations for island-hopping in the Saronic Gulf.
Except for island hopping, the Saronic islands are perfect for day trips from the Greek capital. So, even if you only have a day free, you can easily sail to one of the Saronic islands. It's the perfect chance to switch off and relax into island life!
Tip: Booking a Sailing cruises along the coast is very fun and an excellent way to experience the Athens Riviera. For the romantic souls, a Sunset sailing cruise accompanied with fine wine will add a sparkling note to your Athenian getaway!
Swimming in Athens Riviera
If you are in the mood to hit the beach, you don't have to go far from Athens. There are lots of beaches in Athens Riviera, which will make you feel oceans away from the Greek capital!
The best part is that all these beaches are easily accessible by car, while most of them are also accessible by bus and tram. Fully organized, with many facilities and crystal clear waters, the beaches of Athens Riviera are everything you need and more!
Fact: Some of the best beaches in Athens riviera are Astir in Vouliagmeni, Yabanaki in Varkiza, the beach of Sounio, and Schinias near Marathon.
Windsurfing in Varkiza
Are you a water sports enthusiast?
Athens riviera won't disappoint! In Varkiza, you can perform your favorite water sports in crystal clear azure waters. Windsurfing, paddle, wakeboard, wake surf, canoeing, aqua aerobic, sup, beach volley, you name it, Varkiza beach has it!
What's more, Varkiza beach is organized with many facilities. It is the perfect place to relax and enjoy the sea all day long!
Fresh seafood at the restaurants of Athens Riviera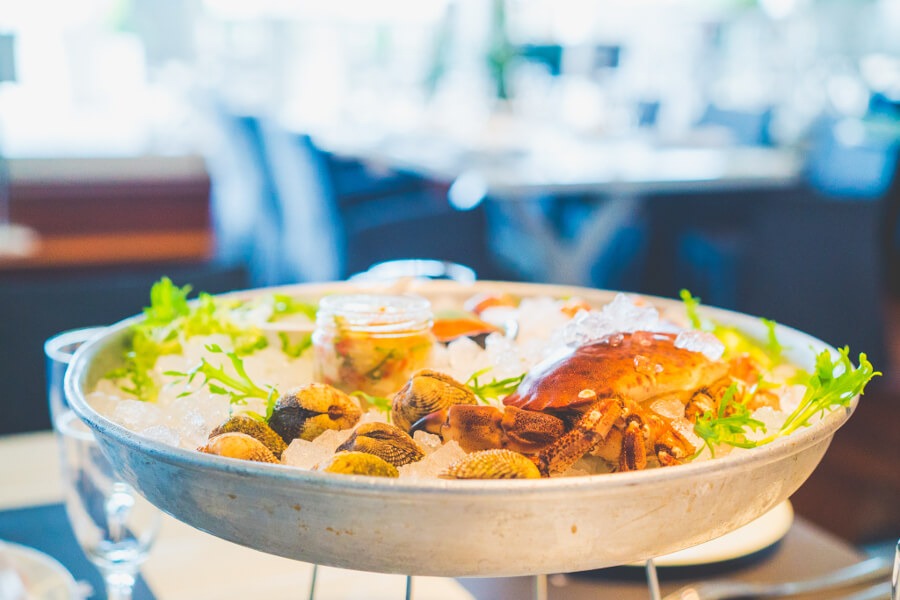 If there's one reason why Athens Riviera is famous (except for its idyllic ambiance), it is its seafood restaurants. And you bet there's a vast choice of eateries to visit.
Athens riviera is lined with many amazing places to eat, from upscale seafood restaurants to family-run fish taverns. Whatever you choose, one thing is for sure: you'll eat well!
Seafood restaurants will not only introduce you to the Greek gastronomy scene but also offer unparalleled views of the sea. We're talking about the ultimate seaside dining experience!
Go for a walk in Marina Flisvos
Less than 30' from Athens city center, you will find the most modern yacht and sailing station of Greece!
The marina has a beautiful promenade with restaurants, cafeterias and even a floating museum!
Marina Flisvos attracts many families, couples and groups of friends who want to chill out by the sea drinking coffee, eat and enjoy the view.
Stay at a seafront hotel in Athens
Are you enjoying the chilled-out seaside atmosphere of Athens Riviera? If you can't get enough of the amazing beaches along the Athenian coastline, it is highly recommended to spend at least a few days of your vacation there. This is one of the most touristically developed areas, full of modern hotels that offer spectacular accommodation facilities. Discover some of the best ones below!
Four Seasons Astir Palace: Boasting an excellent location near Vouliagmeni Lake, Four Seasons Astir Palace is the best place to stay for an unforgettable experience of luxury! The hotel offers deluxe suites with a modern design, dining facilities, a swimming pool, a fully equipped fitness center and much more!
The Margi: Combining deluxe facilities with a cozy atmosphere and an impressive interior design, The Margi guarantees elegance, style and comfort for your accommodation in the area of Lake Vouliagmeni! This amazing resort offers spacious rooms and suites with access to a swimming pool and other modern facilities, including a gym!
Cape Sounio: Situated at an idyllic location in Sounio and offering great views of the majestic temple and the sea, Cape Sounio Grecotel promises an unforgettable experience of luxury, accompanied by top quality services! The hotel's rooms and villas have a sophisticated design, with various touches of luxury and an atmosphere that is ideal for a relaxing vacation.
Divani Apollon Palace: Divani Apollon Palace offers a variety of deluxe facilities in Vouliagmeni, which come with spectacular sea views and easy access to the beach. Fine dining, spa services, watersports and swimming pools will all be a part of a stress-free experience of luxurious accommodation!
So, Athens Riviera sounds like a heavenly place to be right?
Book your trip to Athens to enjoy riviera to the fullest!
How to get there: You can get to Athens Riviera both by private and by public means of transportation. By tram, you can get T1 line from Syntagma to Neo Faliro (Peace and Friendship Stadium Station) or T2 line from Syntagma to Voula (Asklipio Voulas Station). If you want to get to Athens Riviera by bus, you can catch A3 bus from Akadimia to Glyfada, E22 bus from Eliniko metro station to Saronida, 171 bus from Elliniko metro station to Varkiza, A2 bus from Akadimia to Voula, and B2 bus from Akadimia to Agios Kosmas.