In our first issue, Greeka Magazino will introduce you to a couple of talented artists living in the village of Halki in Naxos and creating beautiful ceramics, jewelry,and more. We will take you Truffle hunting in Meteora, we will pay a visit at the Goulandris Museum and admire paintings of Van Gogh and Picasso, we will stay in a luxury hotel in the middle of nowhere in mainland Naxos, we will feel volcanic vibes in Nisyros and shall eat comfort food in the most hip restaurant downtown Athens. Will you follow?
Gallery, Pottery shop. Halki Naxos
Katharina Bolesch and Alexander Reichardt are a couple of talented artists who live and work on the island of Naxos. If you have walked around the narrow paths of Halki, you must have spotted their elegant pottery workshop with the olive tree as motif, a plant so much connected to Greece. "I first came to Naxos in my early childhood", she recalls. "My parents fell in love with the island and so we spent all our holidays here. For my brother and me, it was the most precious time ever: a time of endless beaches, not one house or hotel in sight, sun and clear water and friendly relaxed people. We were free spirits here. Over the years, whenever I had to return to Germany, I felt so sad and empty, that I decided I would settle on Naxos once I had finished high school and my three years studying ceramics in Germany. I have never regretted my decision."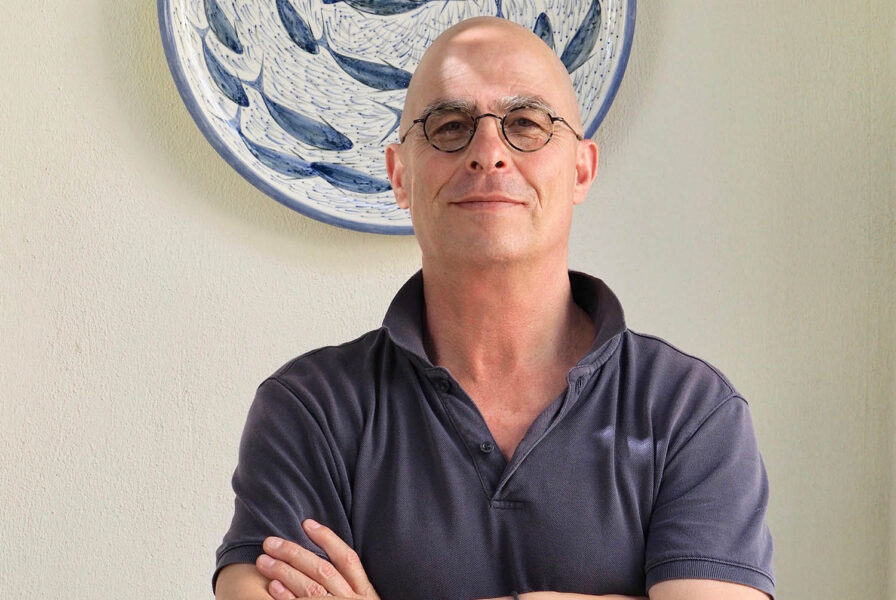 That is how Katharina moved from the cold snow-covered Germany to a sunlit Greek island. In Naxos, she met her husband Alexander, a keen diver who had been brought up in Alexandria Egypt and had come to Greece for holidays.

Together they opened a gallery in the village of Halki, in the heart of Naxos, in 2006.
"We had already been settled there with a shop and a ceramics workshop since 2000. In 2001, it became possible for us to buy an old ruin in the centre of the village and we started to restore and add another floor from 2003. During restoration, thick marble, stone walls and arches were uncovered and we decided that this beautiful building was perfect, not only to display our work, but also the work of other artists. Since the gallery opened, it has become a meeting point for artists and friends from all over the world. For us, it is not simply a place in which to sell work, but a showcase for a collection of very personal items through which we try to express the beauty of nature through art."
As you live permanently in Naxos, how is the island out of summer season?
You can only learn to love and understand Naxos if you live here in autumn and winter. Naxos is both beautiful and rugged, its landscapes and its Nature are inspiring. There is so much beauty in the island at all times of the year: the first green shoots under the olive trees after the rain in autumn, the wild storms in winter and suddenly, in the winter dusk, the sun shining through clouds at sunset. Until December, you can often sit outside and enjoy all that beauty. The winter for us is also very productive and rewarding. Then, we can concentrate on our work and on new designs. You have time to meet friends, and everybody is more relaxed.
How did you become inspired by fish and olive for the decoration of your creations?
The fish design is my husband's, Alex, inspiration. He has a very strong affinity with the sea. I have used the olive as a design motif for more than 15 years, and I still find ways to make it better, or I find a new form to present it. All my designs are inspired by Nature, like the vine, frogs, lemons and bees. I try to represent Nature as closely as possible, but I also introduce a personal touch. The shape of a piece also plays a big role in what I do because it must always be in harmony with the design that I create and that I attach to the finished piece.
Your work can be used daily or are they only for decorative purposes?
We work only with stoneware and porcelain. Every piece is thrown, every leaf or tiny frog is shaped, by hand. I fire twice the first time at 96oC, after that all the pieces are hand-painted, and then glazed. The glaze firing is at 126oC. Stoneware clay is high quality clay that does not chip off, nor does the glaze crack after use. All the pieces are functional as well as decorative and are safe for food use and for other everyday uses as well as for decoration.
On May, 11th, 2020 Fish and Olive celebrated its 20 years of creativity. Unfortunately due to the Covid19 situation, all celebrations and events had to be postponed. Nevertheless, a special illustrated book will be published in 2021 recording the progress from its very first days until becoming a well-regarded brand internationally while retaining its strong local identity in the village of Halki, Naxos.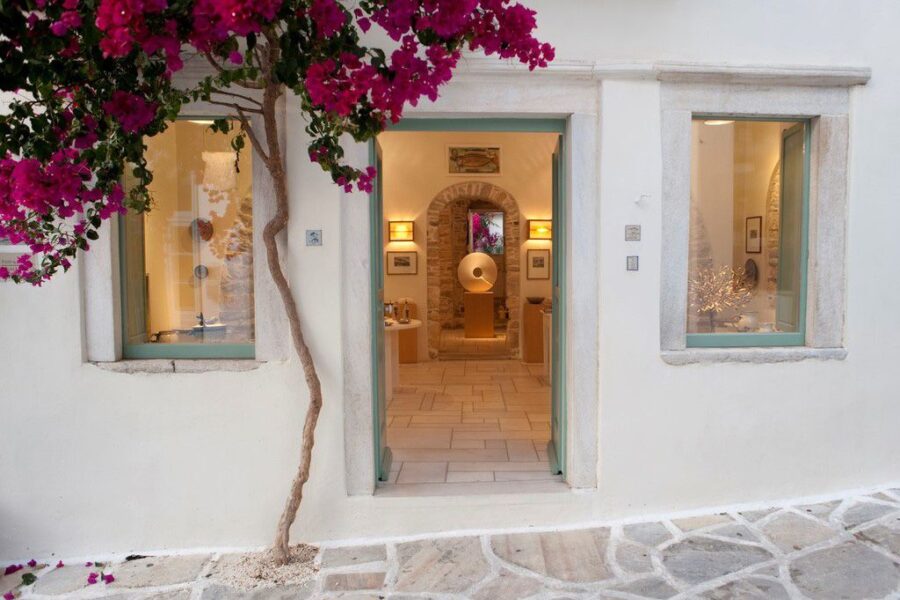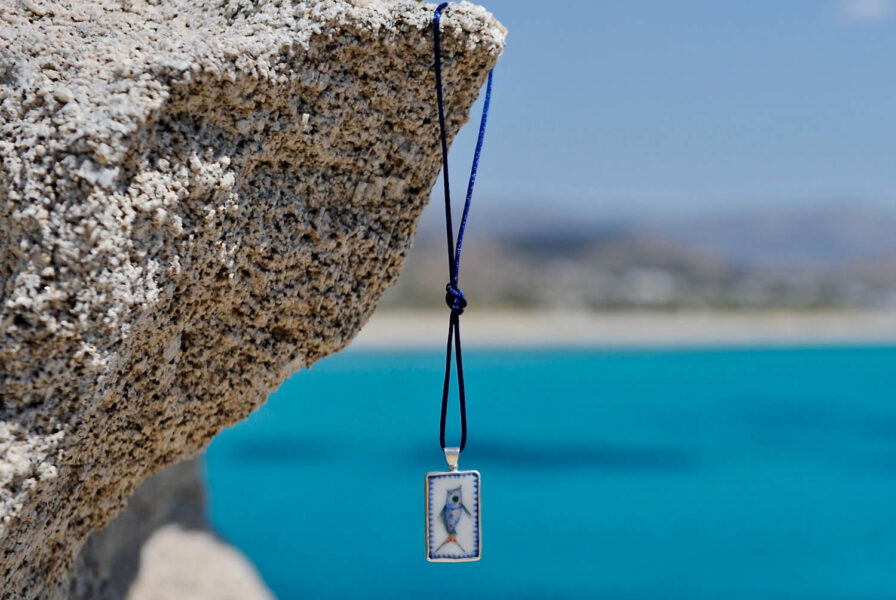 The otherworldly mystic region of Meteora offers the perfect scenery for outdoors activities. Climbing, hiking and cycling are some of the most classic sports one can practice around and about this unique geological phenomenon. Recently, a new trend has come to make you explore this natural sight in an alternative way. Truffle hunting in the woods below Meteora, on the fringes of Pindos mountains is an experience that you will remember for a lifetime.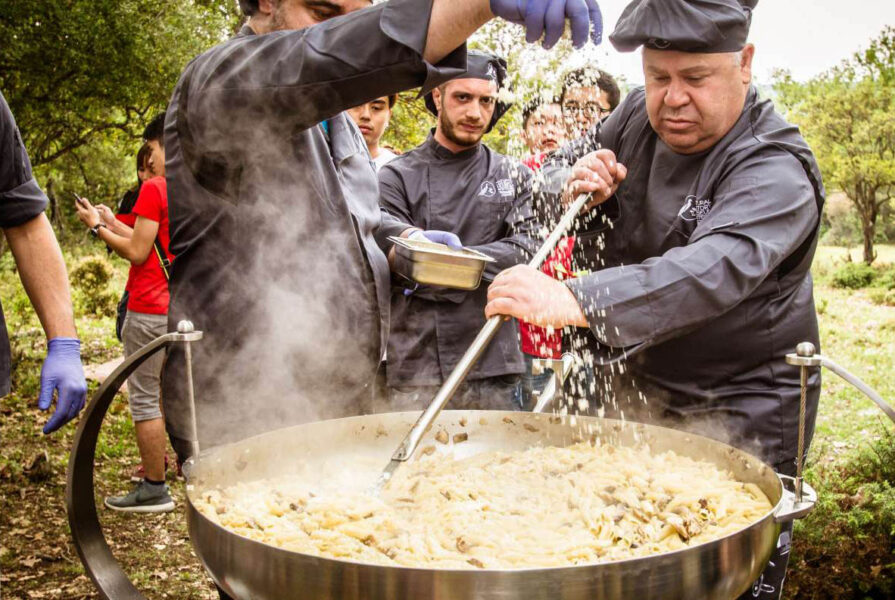 Apparently, the national park of Pindos near Meteora is a paradise of mushrooms! Hundreds of species including some poisonous and of course the king of all mushrooms, the Truffle, are found in the soil.
Well trained truffle dogs along with their trainers will be your guides and will show you around the region, while they will be in the quest for "the diamond of the kitchen".
You know you have found treasure when the dogs begin barking and digging. As soon as the trainers have the truffle in their hands, it's time for lunch cooked just for you in situ! A delicious pasta or risotto accompanied with local wine will be served to you in the woods. After lunch, you will head to the Natural History Museum of Meteora to discover over 250 different mushroom species and do some tasting too. Truffle hunting is a very relaxing, interesting and fun activity for the whole family and Meteora is the perfect location to host it.
Book your tour
here

Ayiopetra sits above a breathtaking olive grove facing the archaic temple of Demeter, goddess of earthly fertility, in Sangri on Naxos island. The place boasts of tranquility, elegance and grecian vibes.
This complex consists of five suits, all decorated with unique antique furniture and blended harmoniously with contemporary design creating minimal spaces with strong references to the past.

Ayiopetra emphasizes on the use of natural products, top quality materials and fine fabrics whereas the use of open spaces results in a feeling of living in Nature.
Breakfast is cooked sur measure designed specially for every guest offering a high class gastronomic experience. Fresh local products from the Naxian land are used by the chef in order to create the most tasteful recipes from snacks and small meals to exclusive dining services.
Book your stay at Ayiopetra
here

It has already been a year since the B.&E. Goulandris Foundation first opened its doors to the public and shared with the world one of the most significant and expensive Modern Art collections of all time.
The power couple, Basil and Elise bought their very first piece of art in 1956 which could not be any other than the "Veil of Saint Veronica" by El Greco. Hundreds of artworks purchases of the most notable art movements and the most important Painters this world has ever known, followed.
Paintings of Van Gogh, Picasso, Cezzane, Monet, El Greco, Bacon, Pollock and so many others are now hanging on the walls of the new Museum in the Greek Capital.

These impressive pieces of European and American Art, along with the finest pieces of Greek Modern Art, have put Athens in the artsy map.
A neoclassical building along with its new added construction in the hip neighborhood of Pagrati very close to the Panathenaic stadium, is the home of the Goulandris Art collection.
Visiting hours are Wednesday, Saturday and Sunday 10:00-18:00, Thursday & Friday 10:00- 20:00, Monday & Tuesday closed.
The Museum Cafe serves delicious patisserie from the renowned shop "Oh Boy" at a beautifully designed terrasse.

In the most central part of Athens, a few meters away from Syntagma and the Greek Parliament, in a tiny, little corner on Voulis street you will find one of the most renowned urban restaurants of the city. A place where Greece meets Asia and the finest products of the Greek land are cooked into Asian fusion dishes.
Nolan is the place to visit if you want to experience a true culinary trip beyond borders. All the recipes are original and conceived by the Greek-Japaneese Chef Sotiris Kontizas and his team matching pure Greek ingredients with Asian cuisine. Dishes such as "soba noodles with smoked salmon in tahini sauce", "greens with soutzouki and bonito", or "Burned cabbage and cauliflower with aged white cheese from Naxos" are some examples of what to expect when eating at Nolan.
The menu is printed and posted online and on the left side of its huge cement door and it might vary from time to time according to the season. "Nolan" pursues a concept of comfort food and food sharing.

This means that there are no first and main dishes but a closed number of excellently executed plates that are set in the middle of the table and are meant to be shared.
Nolan first opened its doors in the mid 2010s in a city suffering from a hard economic crisis. Now, a few years later, it is safe to say that its birth marked a place and a time. If there were a book of Modern Urban Athenian History, it would hold a big part. It is an example that excellence will be recognized and appreciated even in the least of favored circumstances. The Michelin guide has awarded it with the "Bib Gourmand" for its good quality and good value cooking. Serving hours are Monday to Saturday 13:00- 17:30 and 19:00- 23:30. (Sunday closed) *reservation is necessary.
Book a table
here

Nisyros is a remote island that remains untouched by mass tourism. Thanks to its unspoiled charm and secluded location, Nisyros island is shaping up to be one of the hottest alternative destinations in Greece.
The main attraction of the island is the volcano. It is located exactly in the center of the island, it is the youngest volcano in Greece and it is still active! The volcano shares a big part of this island's identity. From the Architecture of its villages to the delicious products cultivated in that volcanic soil, everything is strongly connected to the island's landmark. The presence of an active Volcano in such a small island, puts life in a different perspective. Even as a traveler you can feel it. Everything is ephemeral, life remains simple and humans are humble. It's this feeling (the calmness before the storm) that makes people travel all the way to Nisyros to experience it.
The two main villages of Nisyros are Mandraki and Nikia. Both charming and beautiful. Nikia is built near the volcano with a mind-blowing view on the Caldera whereas Mandraki is the island's center of activities.
The beaches are both pebbled and sandy. The clean water and nice landscape provide great spots to relax.
Nisyros, is located in the south Aegean sea in the complex of the Dodecanese. The ferry trip from Athens lasts merely 17 hours. A flight to Rhodes or Kos and a ferry connection from there will surely save you a lot of time.
Book your ferry From Athens, Rhodes or Kos here