Fact: Nothing will prepare you for the awesomeness of the beaches in Greece!
The coastline of Greece is fringed with innumerable sandy beaches. Each of them is a small piece of paradise!
Pretend for a moment that you lay on the hot sand, while the water of the sea is gently lapping at your feet and the sound of the waves is soothing any shred of worry.
It sounds like heaven, right?
If you want to immerse yourself in the magic of the sandy heavens of Greece, keep reading!
1. Elafonisi beach Crete
Elafonisi beach in Crete boasts a surreal setting!
Close your eyes and imagine a piece of paradise covered with glittery pink sand and surrounded by turquoise waters… Trust us, the reality is beyond any dream!
Sitting on the southwestern part of Crete, 76 km away from Chania, Elafonisi is one of the best beaches not only in Greece but also in the world! Elafonisi is basically a peninsula, which looks like an islet, giving the impression that it is separated from Crete island. Covered with white and pink sand and having turquoise waters, this beach will make your Caribbean dreams come true!
The eastern side of Elafonissi peninsula is organized with straw umbrellas and sun loungers, so it is often crowded. The rest of the beach is less crowded, ideal for those who seek privacy and seclusion.
2. Golden beach in Paros Greece
Heads up watersports enthusiasts!
Golden beach in Paros is one of the most popular beaches for watersports, thanks to its ideal wind conditions. In fact, Golden beach Paros plays host to the Professional Windsurfing World Cup every August. This event attracts thousands of visitors and windsurfing celebrities from all over the world. Either you are novice or professional in windsurfing, it's really worth it to attend the Professional Windsurfing World Cup.
Nevertheless, watersports are not the only reason why you should visit this beach. Stretching for 700 meters Golden Beach boasts a beautiful setting that will leave you in awe! It is covered with golden fine sand and has a backdrop of hotels, delightful restaurants, and beach bars, where you'll party all day long!
3. Kathisma beach in Lefkada Greece
You'll have seen it in postcards long before you arrive, but trust us, the real-life version of Kathisma beach is beyond any expectation.
Situated on the west coast of Lefkada, close to Agios Nikitas village, Kathisma is one of the most popular beaches of the island.
You bet there's a reason for that!
Nestled in a sandy piece of heaven, Kathisma has cyan-hued waters, ideal for swimming! This beautiful beach is surrounded by lush green mountains that create an exotic scenery. Behind the beach, you'll find a wide selection of accommodations, cafes, and restaurants, where you can enjoy a meal after a long day of swimming and sunbathing.
Pure bliss!
4. Palaiokastritsa beach in Corfu Greece
It's not a secret: Ionian beaches stand out for their exotic setting and lush green backdrops.
Palaiokastritsa beach in Corfu couldn't be an exception!
Located on the western coast of Corfu, 25 km from Corfu Town, Palaiokastritsa is perfect for families and nature lovers. In fact, Paleokastritsa consists of six sandy and shingle beaches, which boast an extraordinary natural setting. Surrounded by hills packed with olive trees, the beaches of Palaiokastritsa are ideal for a plunge in the heart of nature.
Palaiokastritsa is organized with umbrellas and sunbeds. Facilities of the beach also include restaurants, cafes, watersports facilities, and beach bars.
5. Navagio beach in Zakynthos Greece
There's no way you haven't seen a picture of Navagio (Shipwreck) beach in Zakynthos! It is one of the most photographed beaches in Greece and the most popular beach in Zakynthos.
Named the World's top beach for 2018, Navagio lives up to its reputation. Nestled in a sandy cove on the northwest part of Zakynthos, Navagio beach boasts one of the most breathtaking backdrops you've ever seen. It is insulated by huge steep cliffs that create a dramatic and super photogenic landscape. When the sun starts to fall into the horizon line, it sprays shades of gold, purple, and red onto the white cliffs, creating a surreal scenery.
It will leave you in awe!
Due to its secluded location, Navagio beach is only accessible by boat. It really feels worlds away from modern civilization!
6. Plaka beach in Naxos Greece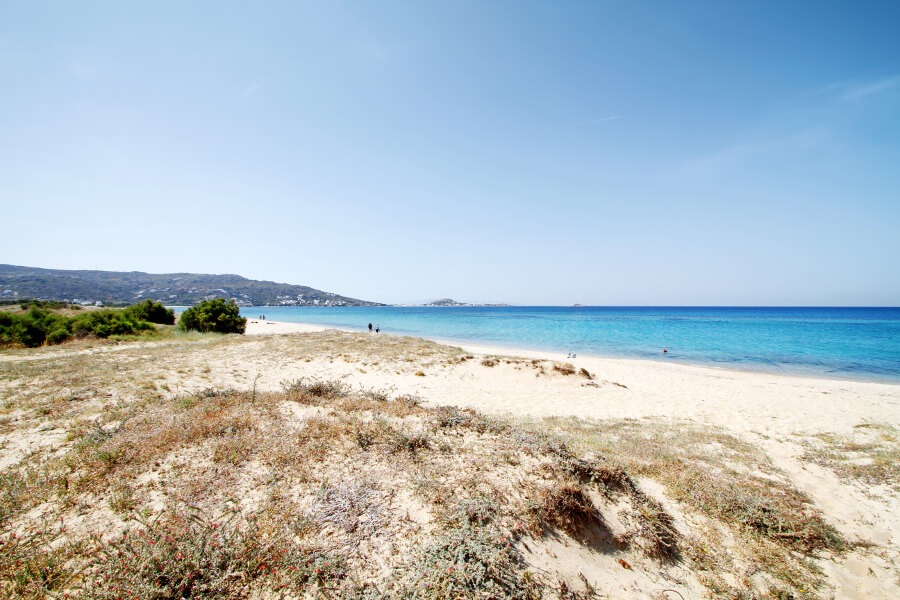 Situated on the southwest part of Naxos, Plaka is arguably one of the most beautiful beaches on the island!
To start with, it is huge. Really huge. Stretching for meters and meters, Plaka Naxos seems never-ending! This means it won't be hard to find your own little private spot. Less crowded than the nearby Agia Anna and Agios Prokopios, Plaka is a perfect option for families with kids and people who seek seclusion.
Plaka beach has a backdrop of taverns, restaurants, and hotels, which you can choose for your stay in Naxos. In spite of being touristically developed, Plaka manages to keep its tranquil atmosphere and unspoiled natural beauty!
Tip: If you visit Plaka beach in Naxos, plan to stay until sunset. The sun dunes behind the beach are the perfect spot to watch the sun dipping into the sea!
7. St. Paul's bay in Rhodes Greece
Fact: St. Paul's bay is the most romantic beach in Greece!
Why?
Because when seen from above, it has the shape of a heart. Awesome, right? That's why many couples choose to get married at the chapel located by the beach!
Seriously, can you think of a more romantic wedding location?
Situated right under the historical Acropolis of Lindos, boasts a beautiful setting. It is nestled in a little sandy cove, surrounded by rocks, and has crystal clear turquoise waters. The beauty of this beach is beyond words!
Around the cove of St. Paul's you'll find some traditional taverns, where you can sit and taste local delicacies, as well as fresh fish and seafood. Oh, and don't miss to explore the beautiful Lindos village and the Acropolis of Lindos, which lie a breath away from St. Paul's bay.
8. Balos beach in Crete Greece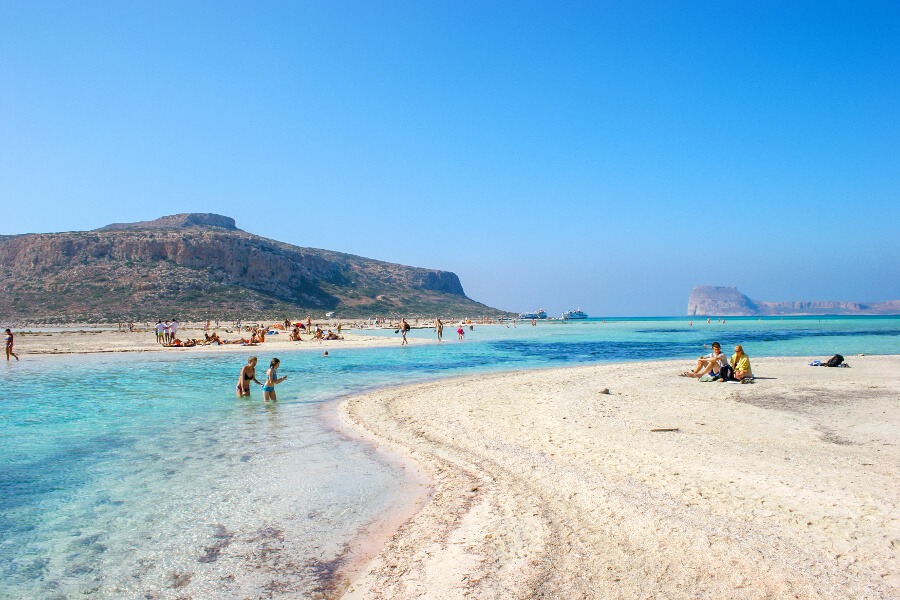 No guide to the best sandy beaches in Greece would be complete without Balos!
Seriously, Balos beach is unlike anything you've seen before. Just imagine a long strip of sand nestled in the heart of a lagoon with turquoise waters. The water is warm and shallow, the landscape is exotic, and the beauty of the setting is beyond words.
Balos beach is situated 56 km from Chania and 17 km from Kissamos. Due to its remote location, the only way to reach Balos beach is by boat from Kissamos port. Thousands of people visit Balos beach every summer, so it is usually overcrowded. If you want to enjoy the remoteness of Balos, we recommend that you visit it in June or September.
9. Simos beach in Elafonissos Greece
Well, it's not surprising that Simos is one of the most beautiful beaches in Greece!
The big sand dunes, the emerald waters, the soft sand, and the exotic landscape of Simos beach make it a beach worth visiting. In fact, Simos consists of two beaches: Megalos (Large) Simos and Mikros (Small) Simos. These two beaches boast a breathtaking natural landscape and enticingly clean turquoise waters.
Behind Simos beach, there's a cedar forest that stretches for many meters, connecting Mikros Simos and Megalos Simos beaches. The deep green of the forest and the bright white of the sand create the absolute color contrast for super instagrammable photos!
10. Pori beach in Koufonisia Greece
This list couldn't be complete without a beach of Koufonisia island!
Why?
Simply because Koufonisia is the absolute exotic paradise! Pori is a typical Koufonisia beach. And by typical, we mean it has endless sand, turquoise pool-like waters, an exotic landscape, and an unspoiled charm!
Pori lies 4 km from Chora, the capital of Koufonisia, and is the biggest beach on the island. That's good because it never gets overcrowded, retaining a feel of seclusion. Pori is perfect for swimming, as its shape protects it from the strong Meltemi winds that often blow in the Aegean.
So, we guess that you're dreaming about these beaches, right?
Just book your ferry tickets and let the adventure begin!