We weren't in search of just another seafood restaurant in Athens.
No.
We were looking for an upscale waterfront seafood restaurant in Athens where we'd feel as if we were dining in the Cyclades. We were seeking the whole experience.
And you bet we found it!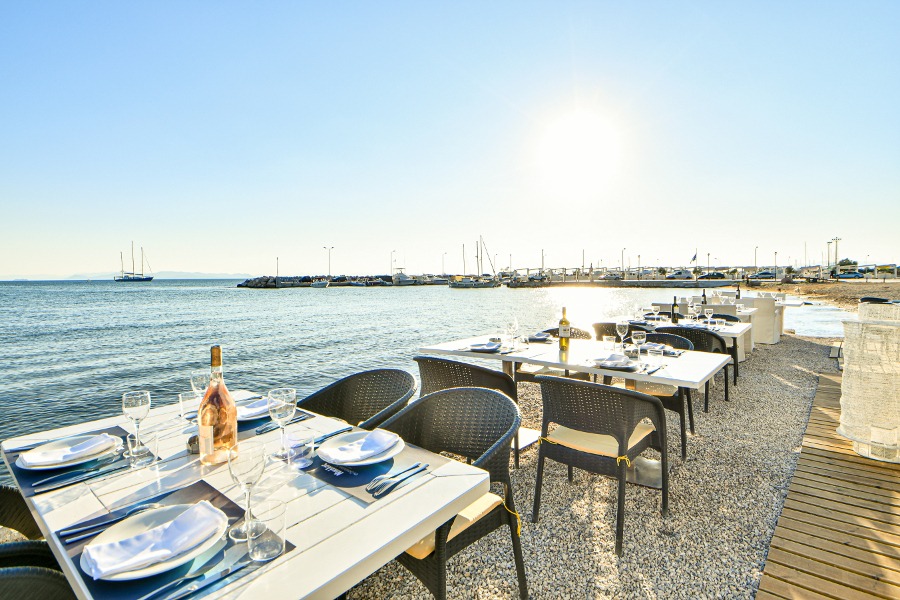 Imagine sitting by the sea, tasting the freshest locally caught fish with a gourmet twist accompanied by a glass of fine wine, watching the sun slowly dipping in the sea right in front of your eyes…
Pure bliss, right?
Not many seafood restaurants in Athens can offer this otherworldly magical experience, but Nikolas Schinoussas in Glyfada surely can!
Situated on a peaceful bay at the cosmopolitan seaside Glyfada in Athens, Nikolas Schinoussas seems to have popped out of a Cycladic island. And that totally makes sense if you consider that this restaurant has a super popular twin in Schinoussa, a remote paradise island tucked away in the Aegean.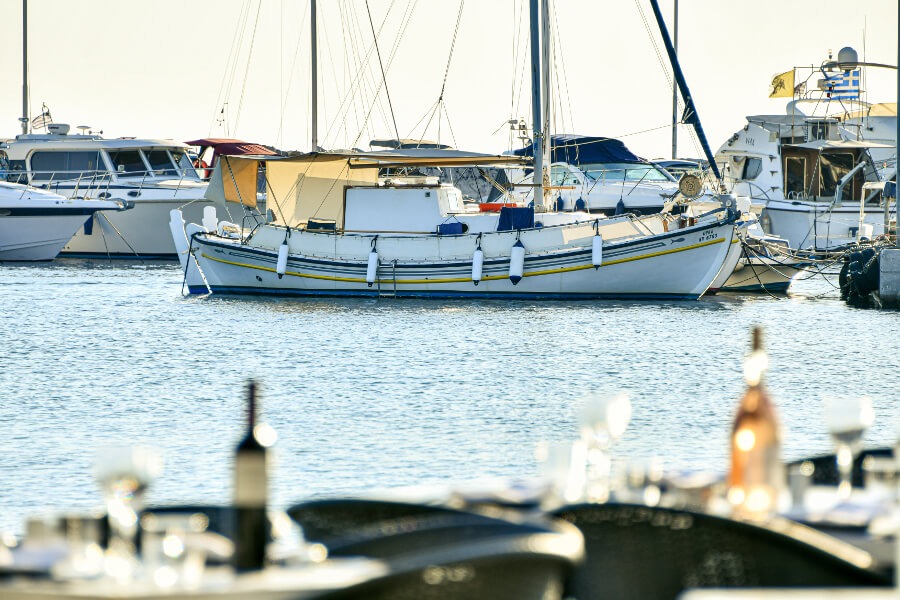 Truth is we felt this Cycladic aura from the first moment we set our foot in Nikolas Schinoussas restaurant!
As we entered the place, we were welcomed by a magical setting (as we visited right before the sunset and you should, too) and the attentive staff. Sitting at the waterfront tables, we marveled at the impeccable view that encompasses the vast deep blue sea, the sky, and the sailing boats drifting.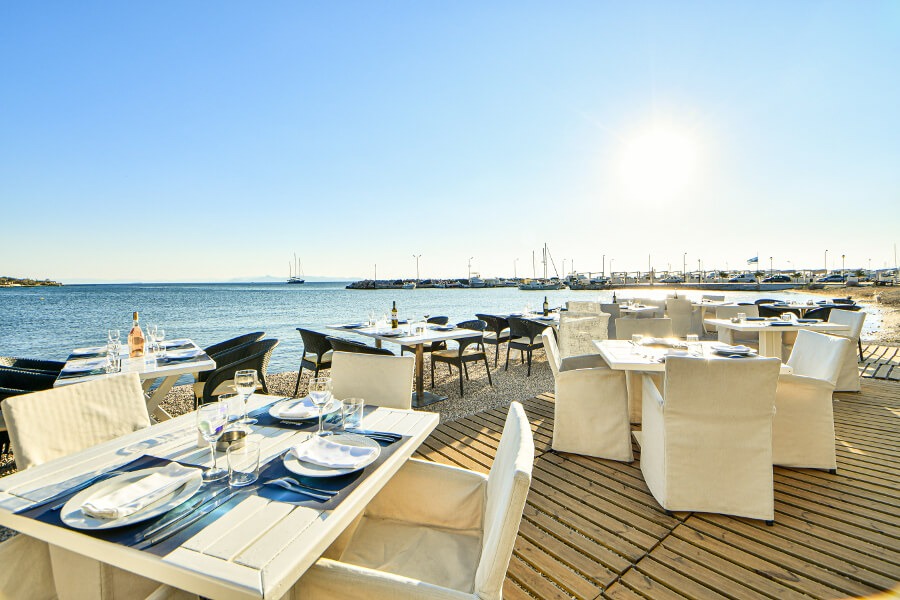 Immediately after sitting on our table, we were served a much-needed glass of cold water and complimentary freshly baked bread accompanied by a home-made dip and locally grown olives. Although it took us some time to go through the delicious menu -as we couldn't help but marvel at the breathtaking view- we were impressed by the variety of options.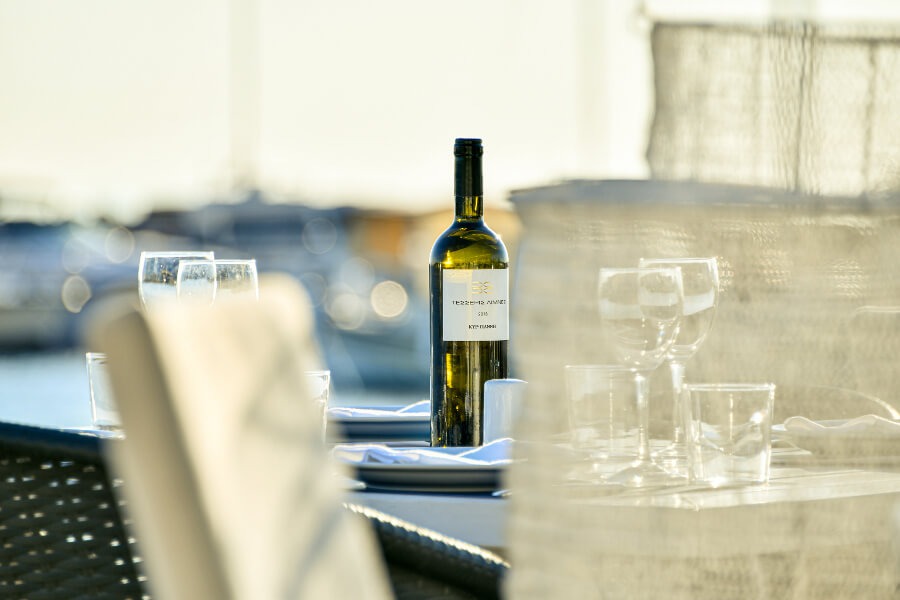 The wide-ranging sophisticated menu relies on locally produced ingredients and locally caught fish and seafood. As the proprietor proudly informs us "The ingredients of your dinner sprang fresh from the Greek soil, as we collaborate only with local producers!". The same, of course, applies to the restaurant's fish and seafood, which are brought to your plate straight from the Aegean Sea.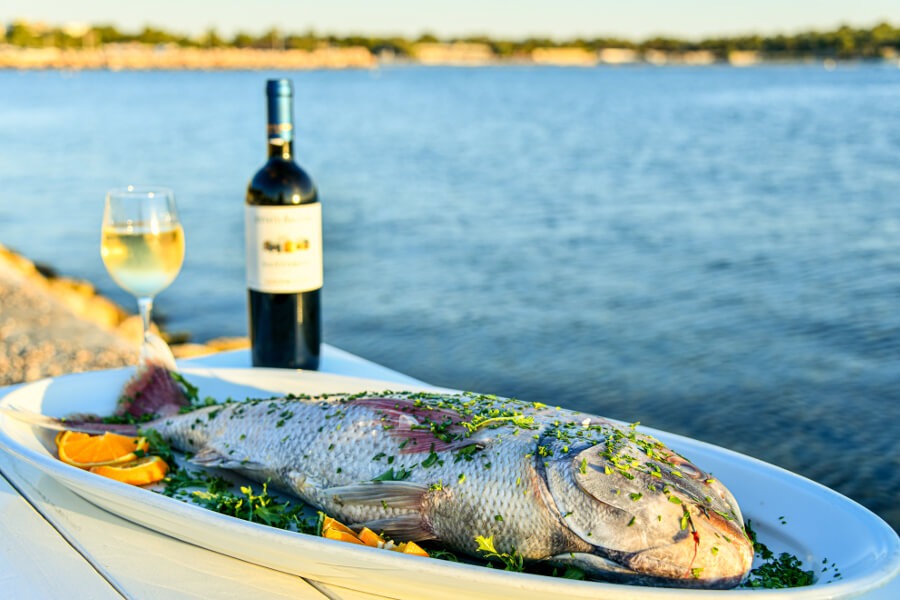 We're talking about the absolute sea-to-plate culinary experience!
With an emphasis on creativity, the restaurant's chef has put together an exemplary menu that consists of a wide selection of fish and seafood, from octopus and shrimps to crayfish and lobster. Menu options also include delicacies such as sea beam carpaccio, smoked eel with lentils, fresh fish ceviche, traditional Schinoussa fava, and langoustine tempura.
Pasta couldn't, of course, be missing from such a menu. Pasta dishes encompass Nikolas' bestseller lobster pasta, crayfish pasta, shrimp pasta with ouzo, and seafood spaghetti. The menu is completed with a selection of decadent desserts, like traditional galaktoboureko with sweet blackberry, bitter chocolate mousse, and millefeuille.
By the time we finished checking the menu, we were already drooling!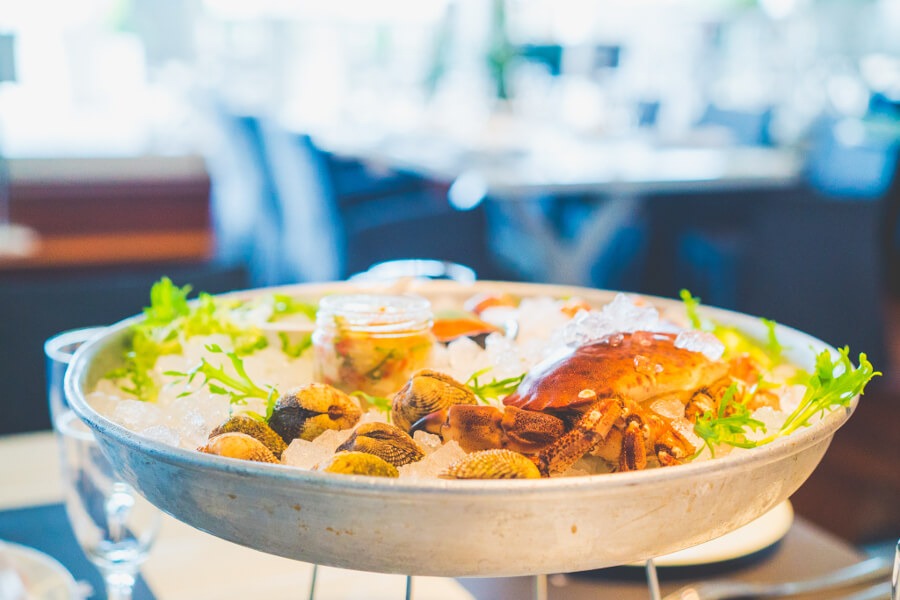 Just like the food menu, Nikolas' extensive wine list consists of locally produced wines and varieties like Chardonnay and Sauvignon Blanc, as well as the Greek superstars Retsina and Malagouzia. Even if you don't know what to choose, the staff is always willing to recommend the perfect fish-wine pairings.
If wines are not your thing and you prefer a more exotic pre-meal drink, Nikolas got you covered. In its variable cocktail catalog, you'll find the perfect cocktail to sip on before your dinner!
Choosing what to eat was not an easy task, as every option on the menu seemed drool-worthy. Nevertheless, we opted for the Cretan salad, the sea beam carpaccio, the handmade pasta with crab, and the crispy fish crockets with homemade garlic sauce.
While waiting for our food, we took the chance to take in the magical, nearly meditative, scenery. The sun was falling into the horizon line, spaying shades of gold, purple and pink onto the sea below us and the sky above us. There are no words to describe the beauty of this golden hour, as we experienced it from our waterfront table. We felt like we were on the front row of the most magical natural spectacle.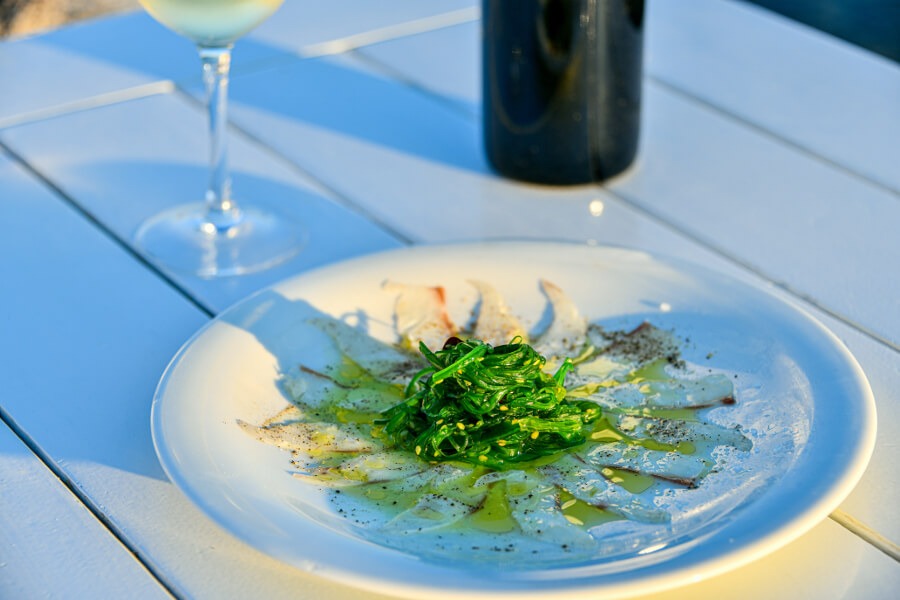 A few minutes later, our food arrived.
After having been served by the waiter, we took several photos of our super-instagrammable dishes (of course) and set off on a culinary adventure.
Honestly, everything was bursting with flavor!
The Cretan salad was fresh and tasty, with the Cretan samphire and soft cheese standing out! The sea beam carpaccio, which was served with a side of seaweeds, was melting in your mouth. The handmade pasta with crab was exceptional, bursting with flavor. As for the crockets, they were fried to perfection and excellently paired with the sauce. We washed down these delightful dishes with several glasses of local Chardonnay wine, which ideally complemented the crab.
Even though we were full, there was somehow still room for dessert. What's better than a juicy orange pie with vanilla ice cream?
Not many things, we guess.
Enjoying the delicious orange pie topped with refreshing ice cream, listening to the sounds of the sea and watching lighted boats drifting by was hands down the best way to end our day.
Leaving Nikolas Schinoussas, was like leaving a Cycladic island and getting back to reality. But, the peaceful scenery and the exceptional culinary experience we had will, sure enough, make us coming back again and again.
Each time to taste the Cyclades all over again…
Nikolas Schinoussas: Diadoxou Pavlou 48 Glyfada, Athens, Tel: (+30) 210 8949550